Why Keldamuzik started Tamz? Keldamuzik, an American artist, singer, songwriter, actress, TV host, entrepreneur, producer, public speaker, and an entrepreneur launched her "Tamz – The World's Flyest Berets". Berets have never been introduced before in the black community nor has it been branded in Hip-Hop culture.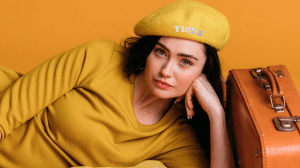 What is a beret?
A beret is a soft, round, flat-crowned cap, usually of woven, hand-knitted wool, crocheted cotton, wool felt, or acrylic fibre. Mass production of berets began in 19th century Spain and France and the beret remains associated with these countries.
Beret fits snugly around the head, and can be "shaped" in a variety of ways – in the Americas it is commonly worn pushed to one side. In Central and South America, local custom usually prescribes the manner of wearing the beret; there is no universal rule and older gentlemen usually wear it squared on the head, jutting forward. It can be worn by both men and women.
 "Tamz – The World's Flyest Beret" has been established since October 2021 by Keldamuzik. It is a revolutionary headwear in the black community and Hip-Hop culture as it has been considered as a modern accessory.
Keldamuzik stated that "I wear my Tamz (berets) all the time, that's how much I love the texture and the design. The fact that these are available on each color makes dressing up so much fun. I can't pick a favorite, but I can only say I'm into bright colors a lot. Can't wait for everyone to see the berets. It's been a long journey to create them, but it was all worth it!". She launched her Tamz brand as a creative headgear for everyone to style with generations today being fashionable.
Currently, Tamz is being introduced to Hip-Hop culture that stands alongside to having "cold outfit". Hip-Hop culture is side by side with being "cool", being fashionable as it is. Artists now have a sky-limit option on being stylish that depends on one's personality.
Tamz is a modern brand that provides a revolutionary fashion, inclusive of Hip-Hop culture and black community. Generations today take a fancy to being modernist and stylish. Sky's the limit to express one's selves appearance and personality, being plain as you inclined for, or represent through different accessories. 
Fancy a beret?